Prof. Dr. Dr. h.c. mult. Reinhard Zimmermann
» Director of the Max Planck Institute for Comparative and International Private Law
» Affiliate Professor at Bucerius Law School, Hamburg
» President of the German National Academic Foundation
» President of the German National Academic Foundation
» Guest Professor at the Universities of Chicago (Max Rheinstein Visiting Professor), New Orleans, Edinburgh, Stellenbosch, Berkeley, Yale, Cornell, Auckland, Santiago de Chile, Cambridge (A.L. Goodhart Professor and Fellow at St. John's College), and Oxford (Visiting Fellow, All Souls College)
» He has been conferred honorary doctorates by the Universities of Chicago, Aberdeen, Maastricht, Lund, Cape Town, Edinburgh, Lleida, Stellenbosch, McGill and Lublin.
PENTRU VERSIUNEA ÎN ROMÂNĂ ACCESAȚI LINKUL
Dear professor dr. Reinhard Zimmermann, firstly, I would like to thank you for agreeing to give us this interview. For most of our readers, you are known as the author of "The Law of Obligations: Roman Foundations of the Civilian Tradition", which is probably the most quoted book in the works of our civil law theoreticians after the Draft Common Frame of Reference (Articles and Comments).  Also, since 2002 you are holding the position of Director of the Max Planck Institute for comparative and international Private Law Hamburg.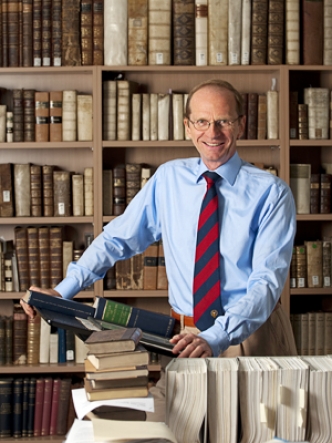 First question that I would like to address to you is why did you choose to study law and where did your passion for private law/civil law come from?
Reinhard Zimmermann: As a schoolboy I developed a great interest in history and languages. I therefore, when I finished school, attempted to find a subject for my University training which I could combine with those interests. Somebody drew my attention to law; and I soon found out that he had been right. Since I had learnt Latin and ancient Greek, I was naturally drawn to Roman law; and since Roman law was largely private law, and constitutes the foundation of our European legal culture, I developed an enthusiasm for the study of private law and started to work in that field. (Another subject which I seriously contemplated to study is theology, and its history. And, indeed, theology has much in common with law: both disciplines are, after all, busy studying and interpreting authoritative texts.)
What is the purpose of the Max Planck Institute, and what are the opportunities that this Institute is offering to young researchers such as myself?
Reinhard Zimmermann: The purpose of the Max Planck Institute for Comparative and International Private Law is, as with all of the around 80 Max Planck Institutes (most of them in the natural sciences), foundational research. Every director is free to develop and pursue his or her own research agenda. He or she has a number of positions in his or her department for doctoral students and "postdocs" (in Germany usually Habilitanden, i.e. young scholars preparing for a career in teaching and research by writing a second thesis). Our Institute has what is certainly the best library in the fields of private law and business law in Europe with around 550.000 volumes. We make that facility available to (junior and senior) researchers from around the world who are welcome to apply for a working desk in the library so as to be able to conduct their research here in the Institute for a period ranging from one week to one year. Around eighty desks are available in the two reading rooms of the library, though due to the Corona-crisis the number has been reduced for the time being. The Institute also grants scholarships to deserving young researchers; details can be found on our homepage.
In 2021, you were a speaker at a conference dedicated to the present and the future of private law, can you share with us some of your thoughts in relation to this topic?
Reinhard Zimmermann: In that conference (which, incidentally, took place in Chile) I had been asked to speak about the state of European contract law. I gave my talk the title "Seeing the Wood for the Trees: Orientation in European contract Law". Essentially, I have attempted to describe what Nils Jansen and I (assisted by around twenty scholars closely associated with us) have done in our book "Commentaries on European Contract Laws: Foundations, Commentaries, Synthesis". The Europeanization of contract law, over the past fifty years, has occurred on many different levels, and has involved many different actors. Thus, the European legislature in Brussels has enacted around twenty directives in the traditional core areas of private law, the vast majority of them in contract law. Individual scholars, or groups of scholars, have written textbooks, have attempted to sketch commonalities and differences between the national systems of private law existing in Europe, have traced the history of private law in Europe, or have identified common rules and principles, definitions and model rules. In view of the fragmented state of European scholarship and of the plurality of textual authorities, we have in our book attempted to adopt a broad perspective and an integrative approach. Thus, we have critically compared the various reference texts on European contract law as well as the relevant acquis communautaire. We have asked in which respect these layers of texts differ, and how those differences can be explained and assessed. We have then tied the discussion concerning these texts back to the pertinent historical and comparative background and investigated whether, and to what extent, the texts can be taken to be genuinely European in nature. In this way we have attempted to provide both a point of orientation and of departure; for we have aimed to give a comprehensive and balanced account of where we stand today, as well as suggestions as to where we might want to go in the future.
Will AI replace the lawyer lato sensu?
Reinhard Zimmermann: I do not think so, and I do not hope so.
You are lecturing at universities in the Romano-Germanic legal system countries and in the common-law countries. Can you tell the difference between lecturing here (I will use this word, as Republic of Moldova is part of the same legal system as Germany) and there? Also, is there a difference in terms of the research method?
Reinhard Zimmermann: I have attempted to describe both the differences and the commonalities between civilian and common law systems in a booklet entitled "England und Deutschland: Unterschiedliche Rechtskulturen?" (England and Germany: Different Legal Cultures?). One of the main differences, traditionally, is that the civilian systems have a code of private law whereas the common law is based on case law. That, obviously, is bound to reflect both on teaching style and research method. But that difference is no longer as marked as it was in the past. Case law is of enormous relevance also in a civilian system such as the German one, whereas statutory law (and the "search for principle") has significantly gained in importance in England. Also, there are more historical connections between the traditions than meet the eye. I think on both sides of the Channel there is much that we can learn from each other, and that is one of the reasons why I treasure my experience in both civilian and common law systems. In the early years of my career I even had the privilege of teaching and conducting research in  a "mixed jurisdiction", i.e. South African private law. It has been shaped by civilian (the Roman-Dutch law brought to the Cape of Good Hope by the Dutch settlers from 1652 onwards) and common law influence (as a result of the English occupation of the Cape after 1806).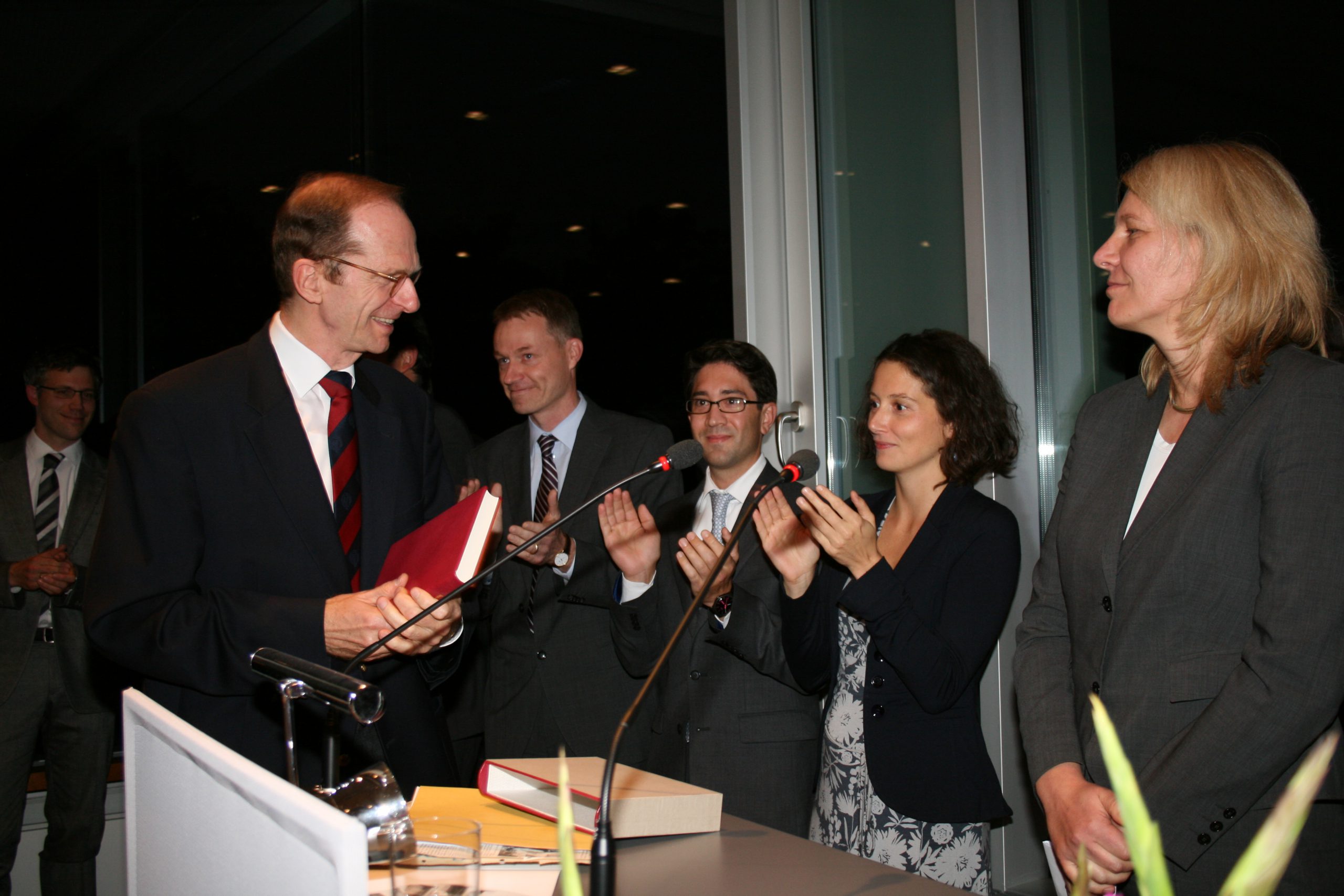 Can you list 5 primary aspects that a beginning researcher should consider in the process of writing a paper or thesis?
Reinhard Zimmermann: (i) Genuine interest in the topic chosen. (ii) Develop a steady working routine. (iii) Do not get demoralized by doubts. Everybody will experience doubts at some stage. (iv) Start to write reasonably early. (v) Attempt to see your topic in historical and comparative perspective; that will provide the basis for critical reflection.
At this moment, what is the role of judicial decisions and doctrine in Germany (in terms of using them as a tool in the courts)?
Reinhard Zimmermann: I could write many pages on that topic, and have actually done so. Let med refer you to a paper entitled "Characteristic Aspects of German Legal Culture" and to another one entitled "Legal Methodology in Germany". The role of legal doctrine has traditionally been very strong in German law. Today, however, judicial decisions play probably an even greater role in shaping the German legal system. Already in the late 1960's John P. Dawson referred to a "case-law revolution".
Can you recommend online private law publications that we should follow?
Reinhard Zimmermann: I belong to the old school and work nearly exclusively with books and law journals which I have on my desk.
Off topic, what is the schedule of a normal day for you?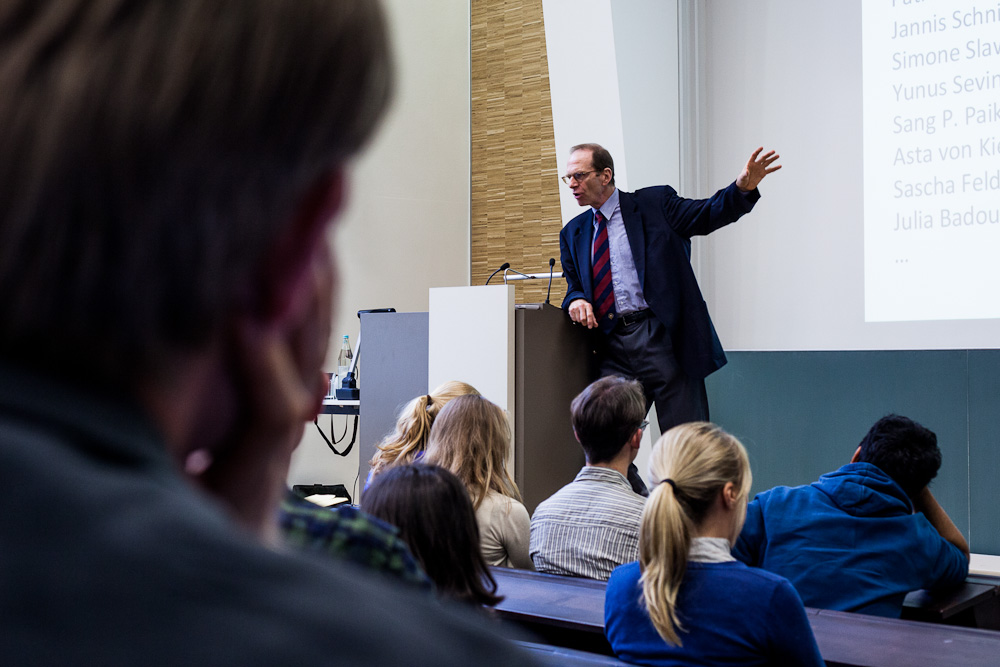 Reinhard Zimmermann: I leave home at around eight in the morning; and since I live very close to the Institute, I can start to work five or ten minutes later. I try to have a concentrated period of work on a book or academic essay until about 11:15; the double doors to my office are then closed and everybody respects that I do not want to be disturbed during that period. Thereafter I go and collect my mail and leave the outer door open. For the remainder of the morning I do e-mails, administrative work, receive academic visitors, am available for consultation for members of my department, etc. Then lunch – often with the members of my department –, then a twenty minute nap (very important; I can only recommend this). In the afternoon I usually have to attend to all sorts of matters relating to the various academic organizations to which I belong and for which I am active (e.g. the Studienstiftung des deutschen Volkes – the German Academic Scholarship Foundation). Of course, there are also very often meetings in the Institute or outside; I try to schedule them for the afternoon. In the evening, if I am lucky, I still have some time for reading and preparing for what I want to work on during the next morning. That schedule is often, of course, modified, particularly on the many days during the year when I have to travel.
Blitz questions:
– Please name 3 non-law books which have impressed you recently?
Reinhard Zimmermann: a) Wade Davis: Into the Silence – The Great War, Mallory, and the Conquest of Everest; b) Jonathan Sumption, Divided Houses: The Hundred Years' War, volume III; c) Philippe Sands, East West Street.
– If you had not chosen law and academic activity, what other profession would you have embraced?
Reinhard Zimmermann: Professor of Theology; or of Classical Studies; or of Linguistics.
– Do you listen to music when you research?
Reinhard Zimmermann: No.
– Even if not, what kind of music do you prefer?
Reinhard Zimmermann: The greatest musician, to my mind, is Johann Sebastian Bach. The second most influential one is Ludwig van Beethoven. My own second favourite, apart from Bach, is Josef Haydn. But I also very much like, for example, the piano music and the songs by Franz Schubert, and the Italian opera of the first half of the 19th century.
– And the last one, if we had lived in a utopia, where all people are of good faith, would there still be a need for law?
Reinhard Zimmermann: In a utopia probably not.
Professor Zimmermann, thank you very much for your time and answers, hopefully one day maybe we will have the pleasure to hear you at a JURIDICE MOLDOVA conference.
---
Stimate domnule Profesor dr. Reinhard Zimmermann, în primul rând, aș dori să vă mulțumesc pentru că ați acceptat să ne acordați acest interviu. Pentru majoritatea cititorilor noștri, sunteți cunoscut drept autorul lucrării monumentale "Dreptul obligațiilor: fundamentele romane ale tradiției civile", care este probabil cea mai citată lucrare de către teoreticienii dreptului civil după Proiectul cadrului comun de referință (Articole și comentarii). De asemenea, din 2002 ocupi functia de Director al Institutului Max Planck de drept privat comparat si international Hamburg.
Prima întrebare pe care aș dori să o adresez este de ce ați ales să studiați dreptul și de unde v-a venit pasiunea pentru dreptul privat/dreptul civil?
Reinhard Zimmermann: În calitate de școlar, am dezvoltat un mare interes pentru istorie și limbi. Prin urmare, când am terminat școala, am încercat să găsesc o specialitate universitară pe care să o pot combina cu acele interese. Cineva mi-a atras atenția asupra dreptului; și rapid am înțeles că sugestia sa a fost una cât se poate de bună. De vreme ce învățasem latina și greaca antică, am fost în mod natural atras de dreptul roman; și întrucât dreptul roman ținea în mare parte de dreptul privat și constituie fundamentul culturii noastre juridice europene, am dezvoltat un entuziasm pentru studiul dreptului privat și am început să lucrez în acest domeniu. (Un alt subiect pe care m-am gândit serios să-l studiez este teologia și istoria ei. Și, într-adevăr, teologia are multe în comun cu dreptul: ambele discipline sunt, până la urmă, ocupate cu studierea și interpretarea textelor imperative).
Care este scopul Institutului Max Planck și care sunt oportunitățile pe care acest Institut le oferă tinerilor cercetători ca și mine?
Reinhard Zimmermann: Scopul Institutului Max Planck de drept privat comparat și internațional, ca și în cazul tuturor celor aproximativ 80 de institute Max Planck (majoritatea cărora țin de cercetări în domeniul științelor naturale), este cercetarea fundamentală. Fiecare director este liber să dezvolte și să urmărească propria agendă de cercetare. El sau ea are o serie de posturi în departamentul său pentru doctoranzi și post-doctoranzi (în Germania, de obicei, Habilitanden, adică tineri savanți care se pregătesc pentru o carieră în predare și cercetare prin redactarea unei a doua teze). Institutul nostru are ceea ce este cu siguranță cea mai bună bibliotecă în domeniile dreptului privat și dreptului afacerilor din Europa, cu aproximativ 550.000 de volume. Punem această facilitate la dispoziția cercetătorilor (juniori și seniori) din întreaga lume, care sunt bineveniți să aplice pentru un birou de lucru în bibliotecă, astfel încât să își poată desfășura cercetările aici, în Institut, pentru o perioadă de la o săptămână la un an. Aproximativ optzeci de birouri sunt disponibile în cele două săli de lectură ale bibliotecii, deși din cauza crizei COVID-19 numărul a fost redus pentru moment. De asemenea, Institutul acordă burse tinerilor cercetători merituoși; detaliile pot fi găsite pe pagina noastră.
În 2021, ați fost speaker la o conferință dedicată prezentului și viitorului dreptului privat, ne puteți împărtăși câteva dintre gândurile dumneavoastră în legătură cu acest subiect?
Reinhard Zimmermann: La acea conferință (care, de altfel, a avut loc în Chile) am fost rugat să vorbesc despre starea dreptului contractual european. Mi-am susținut discursul cu titlul "A vedea lemnul pentru copaci: Orientare în dreptul contractual european". În esență, am încercat să descriu ceea ce Nils Jansen și cu mine (asistați de aproximativ douăzeci de cercetători strâns asociați cu noi) am făcut în cartea noastră "Comentarii asupra Dreptului Contractual European: Fundamente, Comentarii, Sinteze". Europenizarea dreptului contractual, în ultimii cincizeci de ani, a avut loc la multe niveluri diferite și a implicat mulți actori diferiți. Astfel, legislativul european de la Bruxelles a adoptat aproximativ douăzeci de directive în domeniile de bază tradiționale ale dreptului privat, marea majoritate a acestora în dreptul contractual. Savanți individuali sau grupuri de savanți au scris manuale, au încercat să schițeze punctele comune și diferențele dintre sistemele naționale de drept privat existente în Europa, au urmărit istoria dreptului privat în Europa sau au identificat reguli și principii, definiții și modele. Având în vedere starea fragmentată a științei europene și a pluralității autorităților textuale, am încercat în cartea noastră să adoptăm o perspectivă largă și o abordare integrativă. Astfel, am comparat critic diferitele texte de referință privind dreptul contractual european, precum și acquis-ul comunitar relevant. Am întrebat în ce sens diferă aceste straturi de texte și cum pot fi explicate și evaluate aceste diferențe. Apoi am legat discuția cu privire la aceste texte la contextul istoric și comparativ pertinent și am investigat dacă și în ce măsură textele pot fi considerate ca fiind cu adevărat de origine Europeană. În acest fel am încercat să oferim atât un punct de orientare, cât și un punct de plecare; pentru că ne-am propus să oferim o descriere cuprinzătoare și echilibrată a situației în care ne aflăm astăzi, precum și sugestii cu privire la unde am putea dori să mergem în viitor.
Va înlocui inteligența artificială juristul lato sensu?
Reinhard Zimmermann: Nu cred, și nu sper că nu.
Dumneavoastră predați la universități din țările sistemului juridic romano-germanic și din țările common law. Puteți evidenția o diferență dintre predarea aici (voi folosi acest "aici", deoarece Republica Moldova face parte din același sistem juridic cu Germania) și acolo? De asemenea, există o diferență în ceea ce privește metoda de cercetare?
Reinhard Zimmermann: Am încercat să descriu atât diferențele, cât și aspectele comune dintre sistemele de drept civil și de drept comun într-o broșură intitulată "Anglia și Germania: culturi juridice diferite?". Una dintre principalele diferențe, în mod tradițional, este că sistemele civile au un cod de drept privat, în timp ce dreptul comun se bazează pe jurisprudență. Acest lucru, evident, este obligat să se reflecte atât asupra stilului de predare, cât și asupra metodei de cercetare. Dar această diferență nu mai este la fel de clară ca în trecut. Jurisprudența are o relevanță enormă și într-un sistem civil precum cel german, în timp ce dreptul reglementat (și "căutarea principiilor") a câștigat semnificativ în importanță în Anglia. De asemenea, există mai multe conexiuni istorice între tradiții decât se poate observa la o primă vedere. Cred că pe ambele maluri ale Canalului există multe lucruri pe care le putem învăța unul de la celălalt și acesta este unul dintre motivele pentru care îmi prețuiesc experiența atât în ​​sistemul civil, cât și în sistemul de common law. În primii ani ai carierei mele, am avut chiar privilegiul de a preda și de a efectua cercetări într-o "jurisdicție mixtă", adică dreptul privat sud-african. Acesta a fost modelat de influența civilă (legea romano-olandeză adusă în Capul Bunei Speranțe de către coloniștii olandezi începând cu 1652) și ulterior de dreptului englez (ca urmare a ocupației engleze a Capului după 1806).
Puteți enumera 5 aspecte primare pe care un cercetător începător ar trebui să le ia în considerare în procesul de redactare a unei lucrări sau a unei teze?
Reinhard Zimmermann: (i) Interesul real pentru tema aleasă. (ii) Dezvoltați o rutină de lucru constantă. (iii) Nu vă demoralizați de îndoieli. Toată lumea va experimenta îndoieli la un moment dat. (iv) Începeți să scrieți destul de devreme. (v) Încercați să vă vedeți subiectul în perspectivă istorică și comparativă; care va oferi baza pentru reflecția critică.
În acest moment, care este rolul hotărârilor judecătorești și al doctrinei în Germania (în ceea ce privește utilizarea lor ca instrument în instanțe)?
Reinhard Zimmermann: Aș putea scrie multe pagini pe această temă și chiar am făcut-o. Lăsați-mă să fac referire la o lucrare intitulată "Aspecte caracteristice ale culturii juridice germane" și la o alta intitulată "Metodologia juridică în Germania". Rolul doctrinei juridice a fost în mod tradițional foarte puternic în dreptul german. Astăzi, însă, deciziile judiciare joacă probabil un rol și mai mare în modelarea sistemului juridic german. Deja la sfârșitul anilor 1960, John P. Dawson sa referit la o "revoluție a jurisprudenței".
Ne puteți recomanda publicații online de drept privat pe care ar trebui să le urmărim?
Reinhard Zimmermann: Eu aparțin școlii vechi și lucrez aproape exclusiv cu cărți și reviste de drept pe care le am pe birou.
Off topic, care este programul unei zile obișnuite pentru dumneavoastră?
Reinhard Zimmermann: Plec de acasă pe la opt dimineața; și din moment ce locuiesc foarte aproape de Institut, pot începe să lucrez cinci sau zece minute mai târziu. Încerc să am o perioadă concentrată de lucru pe o carte sau eseu academic până pe la 11:15; ușile duble ale biroului meu sunt apoi închise și toată lumea respectă și nu mă deranjează în acea perioadă. După aceea, mă duc să-mi iau corespondența și las ușa exterioară deschisă. În restul dimineții fac e-mailuri, mă ocup de chestiuni administrative, primesc vizitatori din mediul academic, sunt disponibil pentru consultanță pentru membrii departamentului meu etc. Apoi prânzul – adesea cu membrii departamentului meu –, apoi un pui de somn de douăzeci de minute (foarte important; pot doar să recomand asta). După-amiaza, de obicei, trebuie să mă ocup de tot felul de probleme legate de diferitele organizații academice la care sunt afiliat și în cadrul cărora sunt activ (de exemplu, Studienstiftung des deutschen Volkes – Fundația Germană pentru Burse Academice). Desigur, sunt foarte des la întâlniri în cadrul Institutului sau în afară; pe care încerc să le programez pentru după-amiază. Seara, dacă am noroc, mai am timp să citesc și să mă pregătesc pentru ceea ce vreau să lucrez în dimineața următoare. Acest program este adesea modificat, în special în multele zile ale anului când trebuie să călătoresc.
Întrebări Blitz:
– Vă rugăm să numiți 3 cărți non-juridice care v-au impresionat recent?
Reinhard Zimmermann: a) Wade Davis: Into The Silence – The Great War, Mallory and the Conquest of Everest; b) Jonathan Sumption, Divided Houses: The Hundred Years' War, volumul III; c) Philippe Sands, East West Street.
– Dacă nu ați fi ales dreptul și activitatea academică, ce altă profesie ați fi îmbrățișat?
Reinhard Zimmermann: Profesor de teologie; sau de Studii Clasice; sau de Lingvistică.
– Ascultați muzică în timpul lucrului?
Reinhard Zimmermann: Nu.
– Chiar dacă nu, ce fel de muzică prefeți?
Reinhard Zimmermann: Cel mai mare muzician, în opinia mea, este Johann Sebastian Bach. Al doilea cel mai influent este Ludwig van Beethoven. Următorul favorit, în afară de Bach, este Josef Haydn. Dar îmi place foarte mult, de exemplu, muzica de pian și melodiile lui Franz Schubert și opera italiană din prima jumătate a secolului al XIX-lea.
– Și ultima, dacă am fi trăit într-o utopie, în care toți oamenii sunt de bună-credință, ar mai fi nevoie de drept?
Reinhard Zimmermann: Într-o utopie, probabil că nu.
Domnul Profesore Zimmermann, vă mulțumesc foarte mult pentru timpul și răspunsurile acordate, sperăm că într-o zi poate vom avea plăcerea să vă auzim la o conferință JURIDICE MOLDOVA.
---
Aflaţi mai mult despre drept civil, Germany, interviu, interviuri, JMD interview, Max Planck Institute, private law, Reinhard ZIMMERMANN, Vlad BERCU
---
---
---